PRESS RELEASE – September 03, 2014 – The arrival of the Tablet was like a hammer taken to the wall of the static medium of Comics – they weren't just a new way to read comics, they're transforming how comic stories are told.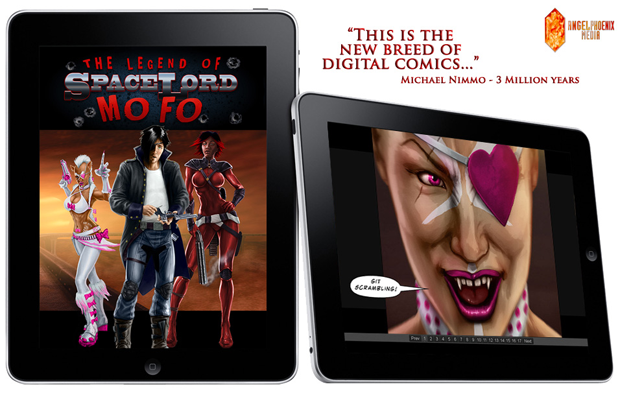 ANGEL PHOENIX has embraced the new comic evolution and we're exited to announce our acquisition of the critically acclaimed digital comic, THE LEGEND OF SPACELORD MO FO, by Pat McNamara (Angelwitch, Lost in Space) and David G. Williams (Wolverine, Phantom, In Flesh and Spirit). Their experience creating and developing the pioneering Digital Cinegraphic Novel storytelling format, and the unique creative vision they bring to Angel Phoenix, keeps story and character at the center of the creative process, and will lay the developmental foundation for further original Angel Phoenix titles (TBA), to be released alongside the continuing adventures of The Legend of Spacelord Mo Fo.
Angel Phoenix is also developing The Legend of Spacelord Mo Fo as an animated TV Series – stay tuned for details to come.
ANGEL PHOENIX makes bold, original Sci-Fi, Fantasy, Horror and Supernatural projects for Film, Television, and New Media, that will fire the imagination of fans the world over and leave them demanding "MORE!"
Find out more about ANGEL PHOENIX at www.angelphoenix.com and follow us at facebook.com/angelphoenixmedia . Please direct all Media enquiries to enquiries@angelphoenix.com'
'Angel Phoenix' and 'Angelwitch' are Registered Trademarks of Angel Phoenix.
ABOUT 'THE LEGEND OF SPACELORD MO FO'
Spacelord Muthafu… well, we'll say Mo Fo because we're in polite company… Spacelord Mo Fo's said to be a one man army who walked into a bar and let loose a hell that destroyed a city. Of course, the truth behind that tale is something more, but that's a truth for another telling.
Episode #1 picks up the thread some two months later, in the dust-choked hellscape of Tomb Towers, the last almost-civilized city on the Edge of Endspace… It's the kinda place where trouble always comes calling… and, today, it rode in with a capital Mo Fo!
Launched online in January 2012, from the awesomely disturbed minds of Pat McNamara (Angelwitch Series) & David G. Williams (Wolverine: Doombringer, Catwoman, In Flesh & Spirit), The Legend of Spacelord Mo Fo is an ass-kickingly kick-ass post-apocalyptic, space-western, love story… with guns, presented in the trailblazing Digital Cinegraphic Novel format (like Marvel's Infinite Nova & Thrillbent's Insufferable).
The story follows Bran Mak Foo and Honey Pott, a just-married couple scrounging a living on the Edge of Endspace after a galactic apocalypse… or three. The Edge is a place where heroes are few, villainy's the law, and the rest are just trying to survive…
At its heart, The Legend of Spacelord Mo Fo is a tale of love and guns, with Bran and Honey fighting the good fight against the galaxy, and sometimes each other, but always finding a way through… together… mostly… we hope…
"It brilliantly mixes the interactive elements of Thrillbent, with the motion elements of Madefire and adds in a politically incorrect Aussie attitude for good measure!" – Alex Thomas, Pipedream Comics
"This is a brilliant Issue #1" – "…a welcome addition to the infinite canvas style and well worth a read…" – "… this is the new breed of digital comics…" – Michael Nimmo, 3 Million Years
"The artwork is awesome." – "…fantastic space opera for the digital age!" – Paul Norman. Booksmonthly Uk
"…blazing a trail in the world of digital comics unlike any you've seen before." – "Pulpy sci-fi goodness at its best." – Stewart Cook. Writer, Dave – Zombie Hunter
"I give big hairy kudos to McNamara and Williams…" – "I'll definitely be checking back for episode updates for The Legend of SpaceLord Mo Fo. So should you." – Captainhardshell, International House of Geek
"Guns, explosions and psychotic villains make an epic love story." – Nathan Tan. I Got Superpowers
"Natural Born Killers meets Mad Max in space." – "If you haven't checked it out yet, you should!" – Brian LeTendre. Secret Identity Podcast
"…one of the smoothest openings I've seen in digital so far! Nicely done!" – Josh S. Henaman. Writer, Bigfoot – Sword of the Earthman.
"Awesomeness!" – Joe T. Velikovsky. Transmedia Writer