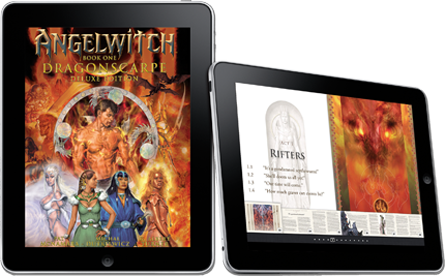 This is the saga of the last Angelwitch.
It's a story of when the heroes lose… …and the beginning of what happens next.
For the Angelwitch illustrated novel series, multi-award-winning artist, Michal Dutkiewicz (Wolverine, Batman, Lost In Space), writer Pat McNamara (Legend of Spacelord Mo Fo), and conceptualist, G. Albert Turner (Venus League), have delivered a fantasy saga so epic, with illustrations so grand and evocative, we had to create a new format – the giant-sized Cinematic Novel. Each magnificently presented book in the series is being released in 'Cinematic Size', one of the largest original fantasy volumes ever published.
The Angelwitch series is a story about five powerful but deeply flawed individuals who come together in the aftermath of an apocalyptic event and find purpose, redemption and validation in the fight to save the damaged and divided world that remains.
SYNOPSIS
The Storm of war has engulfed the Realms. Five years suffering the hellish Rifts and their brutal spawn, the Rifters, has brought a long peace to the edge of ruin. Thrust into the heart of the turmoil is Zayd Mon Awes, Paladin of the Dragonscarpe. With a doomed love already weighing heavily upon him, Zayd is set the near -impossible task of training four powerful but headstrong and mistrustful Elementalists who could hold the key to winning the war – if they don't kill each other first.
But when betrayal sees Rifters let loose on the once-unconquerable Dragonscarpe, the vengeful Outcast Velcca, architect of the turmoil, reveals the truth of the Rifts, and Zayd takes the first step to discovering that the only hope for survival lies in a distant past deliberately forgotten – beyond the barrier to the terrifying Nameless Realm…
A DELUXE EDITION of Angelwitch: Book One, Dragonscarpe has been produced exclusively for Itunes in the IAuthor format allowing us to deliver a truly immersive blending of the epic Angelwitch story by Pat McNamara, and the amazing illustrations by Michal Dutkiewicz, displayed in gloriously high detail. The D.E. also features beautifully designed interactive tables of contents menus, and so much more — all to create an unparalleled reading experience in the world of fantasy fiction and illustration.
A word from the creators
"I've always loved stories like The Dirty Dozen and The Wild Bunch and Guardians of The Galaxy, where you get to follow a group of flawed could-be-heroes who have absolutely no business being on any kind of quest together – but are being forced to do just that. I get to write this incredible sprawling epic fantasy adventure, but it all takes place around this core-group of mismatched adventurers. Their journey is the heart of the Angelwitch series." – Pat McNamara, Writer.
Angelwitch Book One – #1 in 'Sword and Sorcery' & 'Epic Fantasy' on Amazon*
Get your copy now at Amazon


Get your Deluxe Edition from ITunes

'Michal's art is outstanding, astounding and blindingly brilliant'
– Robert N. Stephenson, Aurealis Xpress
'It's humungous. It's ginormous. It's an absolutely mammoth book!'
– Brian LeTendre, Secret Identity Podcast
'Epic fantasy doesn't get much better than this!'
– BooksMonthly.co.uk
'I'm enjoying the hell out of some Dragonscarpe right now!'
– Slacker and The Man Podcast