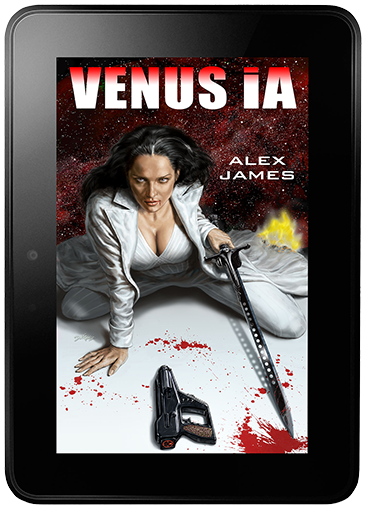 "To save her sister, she sold her soul to the corporation…"
VENUS IA is a full-throttle, fem-powered sci-fi actioner in the vein of Taken, Blade Runner and Riddick. Set against a bleak, morally warped future dystopia, where corporate assassins battle for the galaxy's most sort after commodity, Ambrosia, psychopathic super-assassin, Venus, embarks upon a quest to destroy the corrupt human empire that created her from within – with no end to the trail of destruction she leaves in her wake.
SYNOPSIS
White can't remember her real name, or anything much about her real life – all she remembers is that slavers kidnapped her sister, the only thing she loves, and that that she has less than twelve hours to steal her back – or she will be lost forever in a lawless, barbaric and moral vacuum of a galaxy where humanity has run rampant, limitless and uncontrolled, for centuries.
Totally desperate, White has sold her body to the Celestia Corporation – receiving deadly skill and memory upgrades from Celestia's most feared assassin – the cold sexual predator and emotionless psychopath known as Venus; a cruelly efficient, genetically engineered, galaxy-scale super-weapon in the body of a goddess.
But even with these advantages, White knows that time is running out, and only the deep emotional bond with her sister will keep her going; White's determination – and newfound brutality – cannot waver… even if it means leaving a devastating trail of death and wreckage in her wake, even if it means that what she finds at the end of her path of destruction – and what she has become – is more horrifying that anything she could have imagined…
A word from the author
"I approached Venus IA as the space opera genre fans have been anticipating in the wake of 'Games of Thrones' and TV shows like 'Spartacus'. It's intense, compelling, erotic and shocking. Venus spins the tropes of established space opera to a new and dark, violent mindset. It's a space opera that speaks to the heart of contemporary issues; corporate expansion, psychopathic exploitation, rampant terrorism and sexual power." – Alex James
Get your copy now from Amazon.

#1 in 'Space Opera' & 'SF Adventure' & 'Dystopian' on Amazon*
"If you like fast-paced space adventures, full of action and with plot twists in the end, "Venus IA" is for you." – J. Vieitas
"A psychopath with a noble purpose. What more could you ask for?" – Jeff T Judkins