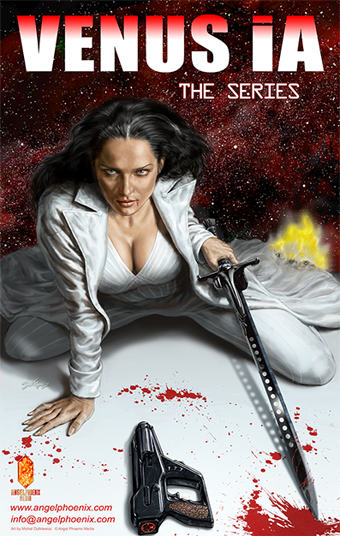 Venus IA
To save her sister, she sold her soul to the corporation…
VENUS IA is a full-throttle, fem-powered sci-fi actioner in the vein of Taken, Blade Runner and Riddick. Set against a bleak, morally warped future dystopia, where corporate assassins battle for the galaxy's most sort after commodity, Ambrosia, psychopathic super-assassin, Venus, embarks upon a quest to destroy the corrupt human empire that created her from within – with no end to the trail of destruction she leaves in her wake!
Development:
TV Series
Status:
Pilot Screenplay (Writer – Alex James)
Genre:
Sci-Fi / Action / Drama
Source:
Based on the acclaimed Novel Series
Pilot Synopsis
White can't remember her real name, or her life – just that slavers have kidnapped her sister, the only thing she loves. Desperate, with less than twelve hours to steal her sister back, White has sold her body to the Celestia Corporation in return for upgrades from Celestia's most feared assassin – Venus, the emotionless sexual predator and psychopath; a genetically engineered, galaxy-scale super-weapon in the body of a goddess.
But time is running out, and in this lawless, immoral and barbaric moral vacuum of a galaxy, White's determination – and new-found brutality – cannot waver… even if it leaves a devastating trail of wreckage, and that what she finds at the end of her path of destruction – and what she has become – is more horrifying that anything she could have imagined…
Click here for Venus IA Novel