The Legend of Spacelord Mo Fo
*Warning! The Legend of Spacelord Mo Fo is intended for a more mature audience… well, it's not for 'kids' anyway… not really sure about the 'mature' part… so, read on at your peril! 
The Legend of Spacelord Mo Fo is the acclaimed serialized, full-color, digital comic, written and illustrated specifically for the digital storytelling medium by creator's Pat McNamara (Angelwitch Series) and David G. Williams (Batman: Shadow of the Bat, In Flesh and Spirit, Phantom).
SYNOPSIS
In a post-apocalyptic, space-western, love story… with guns… Bran Mak Foo and Honey Pott, are a young, just-married couple, scrounging a living on the galactic edge, a place where heroes are few and villainy's the law.
And if life weren't tough enough already, Bran's the galaxy's 'most wanted' – Spacelord Mutha- well, we'll say 'Mo Fo' because we're in polite company – a one man army who legend says walked into a bar and let loose a hell that destroyed a city.
Pursued by fame-seekers, vengeance-takers, justice-bringers and fortune-hunters, Bran and Honey fight the good fight against the galaxy, and sometimes each other, but always find a way through… together… mostly…
We hope…
Episode #1
Episode #1 begins in the dust-choked hellscape of Tomb Towers, the last almost-civilized city on the Edge of Endspace. It's the kinda place where trouble always comes calling… and, today, it rode in with a capital MO FO!
A word from the creators
"Issue #1 gives readers a sense of the nasty, post-apocalyptic galaxy our heroes live in, and introduces the first piece of the puzzle that is the seemingly mythic figure feared throughout the galaxy, 'Spacelord Muthaf#*ker'… aka 'Mo Fo'. We're also playing on a pretty broad tonal canvas, so there's darkness, and horror, and funny, and love, and guns… lots of guns." – Pat McNamara, Writer.
"Not only is the Mo Fo pushing the boundaries of what a comic can do and be in the new digital medium, it's also an incredibly eclectic and diverse mix of storytelling genre's and visual styles! We've had such a blast creating this world!" – David G. Williams, Artist.
FREE DIGITAL COMIC SERIALIZATION
Coming Soon – Episode 1 of The Legend of Spacelord Mo Fo, serialized weekly in ten parts. Stay tuned for details.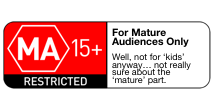 Uncensored HD Version Available Now at

"This is a brilliant Issue #1″ – "…a welcome addition to the infinite canvas
style and well worth a read…" – "… this is the new breed of digital comics…"
– Michael Nimmo, 3 Million Years
"It brilliantly mixes the interactive elements of Thrillbent, with the motion
elements of Madefire and adds in a politically incorrect Aussie attitude 
for good measure!" – Alex Thomas, Pipedream Comics

Coming Soon
Coming Soon
Coming Soon