The Pandora Sequence –
Novel Series
The blurb begins with a disquieting quote, "There is a reptilian in your mind… and it knows what you are thinking", and once you've begun the first page, the story only gets more can't-put-it-down riveting from there…
THE PANDORA SEQUENCE, by Alex James (Venus IA, The Spell At The End Of The World), is a tour-de-force meta-thriller of modern mythology… an amazing journey through the higher dimensions and the world of aliens – Anunnaki, Pleiadeans, Orions, Nephilim and Elohim….
Synopsis
Mitch Pyne is starting to realize that his premonitions – of a devastating Los Angeles earthquake – might be real.
In one night, down-on-his-luck Mitch will have his world turned upside down: a shocking phone call from a woman who knows more about his life than he does; a mysterious gift from an old friend – who has just been brutally murdered somewhere in the jungles of Peru… and the sudden return of the beautiful woman Mitch has loved all his life.
Thrust into a world he never knew existed, Mitch is forced to confront a strange new reality – a twilight world in which no-one can be trusted… but in which he will be forced to choose sides.
Because Mitch alone holds the key to a burgeoning war between two rival billionaires, each of whom represent two sides of an ancient and terrifying legacy: the truth about the human genetic code, and its power to manipulate the course of humanity.
Unless Mitch can decipher the clues left for him by his murdered friend, and quickly locate the six people who have each been entrusted with a piece of a genetic sequence that holds the key to the survival of mankind, terrible forces that have been manipulating humanity for thousands of years will trigger a series of catastrophic natural events…
…and smash the human race back to the Stone Age.
A word from the author
"I wanted to write a thriller that incorporated the mythologies that are resonant in the world today – conspiracy, the alien agenda, and planetary change. Little did I know what I would uncover!" – Alex James.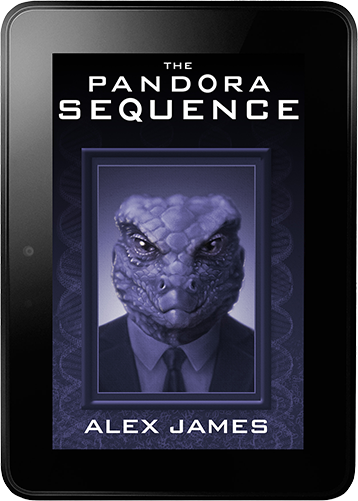 #1 in 'Metaphysical' & 'Conspiracy' on Amazon*
"This is a book that interrupted my sleep pattern."
– Richard Mac
"A multi-dimensional work. RIchly drawn. Satisfyingly complex."
– David Loeff
"…the best book I've read in a long time. Anyone who has read a
David Icke book, knows what the cover stands for. A picture is
worth a thousands words, no?"
– Natacha, Goodreads
eBook Edition Available Now
Print Version coming soon
Coming Soon
Coming Soon
Coming Soon